Here is a spontaneous song about God's laws and His ten commandments. I sang this three days before America's election November 2018. 
Here is the video with professional audio: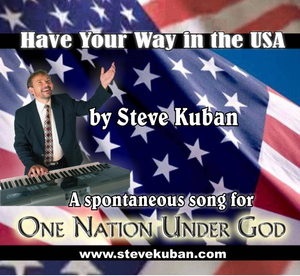 Have Your Way in the USA 
©2018 by Steve Kuban 
========================= 
Today's "Daily Devotional" is all about God's Laws. 
"The ten commandments." 
Just say these words nowadays and a myriad of reactions take place in people's hearts: Sadly, many think: "Old fashioned." "Religious." "Legalistic." "Archaic." But the truth is, the ten commandments are God's laws. And if we follow them, blessing comes. But when we ignore and disobey them, we bring cursing upon ourselves. 
Today's Daily Devotions are a continuation from yesterday about God's laws. (Please review yesterday's email sent January 24, 2019 to see the ten commandments revealed in over 30 places in the Bible.) 
Western civilization is founded upon the ten commandments YHVH gave to the children of Israel. I remember my dad once telling me when I was about 8 years old that all our thousands of laws stem from these first ten commandments. I've never forgotten that truth. 
And yet nowadays, court houses in America cannot display the 10 commandments anywhere. They've been removed from all public school curricula. The general public cannot recount what they even are. 
Sadly we are reaping today the sordid harvest of what we have sown: Killings, shootings, robberies, adulteries, children disrespecting parents, lying at the highest level, false witness, corruption in government...the list goes on and on. There is no fear of God in people's minds or hearts. Sin is surely a reproach to a nation. 
This song is about God's laws and ten commandments. I composed and sang this spontaneously three days before America's election November 2018, as the Spirit of God led me. 
If you're not American, you may think this song is not for you — but it is, because this song is really about God's commandments, which are for every one of us. And America is a major part of the world scene, as is Israel, so we need to intercede every day for both. 
How this song came about: 
As I worshiped the Lord on Nov. 3rd, 2018, while playing my music keyboard, I was interceding for America, talking to Yeshua, crying out to Him to touch America again by His Holy Spirit. Christians in this country and around the world had been praying fervently for this upcoming election: that the governing officials who would be elected would be God-fearing individuals who understood the importance of the ten commandments and honoring God. "Righteousness exalts a nation, but sin is a reproach to a nation." (Proverbs 14:34). Many were saying this was one of the most important elections in the history of America. As a nation we desperately needed righteous leaders to be elected! 
As I worshiped the Lord while sitting at my music keyboard, I pressed the audio 'record' button (just in case God might give me a prophetic song), closed my eyes, and just began to sing, pray, and play, as the Spirit led me. 
Cassandra felt the anointing, and led by the Holy Spirit grabbed her iPhone and began recording video and streaming the song live on facebook. I wasn't aware of this, for my eyes were closed and I was just lost in the presence of the Lord, singing to Him, crying out to Him. 
Those eleven minutes spent worshiping and interceding before the throne of God, are what this video contains. May it bless you. 
Please share this video and link with your friends: 
https://stevekuban.com/haveyourwayintheusa 
You can download this song to your phones or computer. If so, play it often, to remind you to pray for America, and to follow God's commandments. 
Thank you.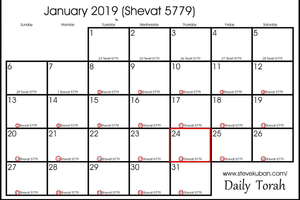 Dr. Steve Kuban 
==================== 
Thursday's scripture reading: 
(Shevat 18, Jan 24, 2019) 
Luke 1
Acts 18 
Rev. 18 
Prov. 18 
Psalms 86-90 
Plus these passages from Bible Portion (Parasha) #18: 

============================================================================= 
Friday's scriptures (January 25th): 
Shevat 19 = Parasha 19: 
Luke 19 
Acts 19 
Rev. 19 
Prov. 19 
Psalms 91-95 
Plus these passages from Bible Portion (Parasha) #19: 

======================================================================= 
Saturday's scriptures (January 26th): 
Shevat 20 = Parashat 20: 
Luke 20 
Acts 20 
Rev. 20 
Prov. 20 
Psalms 96-100 
Plus these passages from Bible Portion (Parasha) #20: 

I'll be sharing some wonderful songs from these passages for Shabbat, so please feel free to download them, they'll be a great blessing to you! 
=============================================================== 
Note regarding weekly Torah Portions read by Jews: 
Notice that I've been sharing one Torah 'portion' with you each day since Jan 7th (day 1 of the Jewish month Shevat). This is the cycle that we read, which allows us to read through the entire Torah in two month cycles. 
However most Jews read one of the 54 'parashat' (portions) each week, on Shabbat (Friday at sunset until Saturday sunset). This enables them to read the Torah through once every year.Most Jewish or Messianic websites follow this tradition. If you wish to follow this pattern (and I recommend you do, to stay abreast with Jews around the world), in addition to the daily readings I've been sharing with you each email, here is Parashat #17 for this Shabbat (Jan 26) (it's "Yitro", what we read two days ago) 

An excellent Jewish website that expounds wonderfully upon each Torah portion, is Messianic believer John Parson's site: 
https://hebrew4christians.com/Scripture/Parashah/parashah.html 
Any day that you click this link, you will be automatically taken to the Torah portion for that particular date. So if for example on April 20th you click the above link, you will be taken to the Torah portion for April 20th. John's website automatically adjusts for all Jewish holidays such as Passover, etc. John also shares "Table Talk", a list of questions pertaining to each Parasha. It's an awesome website that is ultra-informative! If you use it, please support brother John financially, as he has devoted his life to its development and maintenance. Shalom! 
================================= 
Have Your Way in the USA  ©2018 by Steve Kuban 
(Prayer song for USA Elections 2018, composed spontaneously on Nov 3, 2018) 
Intro 
Touch this nation O Lord 
With Your glory 
Touch America Lord 
With Your glory 
For we need a touch from You 
Help this nation Lord 
(sax solo) 
verse 1 
There comes a time in every land 
Where righteousness and truth must show its hand 
For the lies of the enemy will steal and kill and destroy 
And there's one who wants to kill 
Every child, every girl, and every boy 
(spoken) 
Lord for too long our nation has allowed 
Ungodliness, atheists, antagonists. 
It's just time. 
I pray Lord, that You would have Your way 
Through your children 
As we rise up and say with godly jealousy: 
(chorus 1) 
"No! This land is not for any purpose other than 
That God might be glorified from sea to shining sea!" 
Come my Lord and let the world hear Your voice once again 
Let the sound of revival flow from America again 
('shoo bops' interlude) 
(verse 2) 
Praying in the spirit 
For this election. 
I'm crying out, O God for Your hand 
Stir your children. 
Let righteousness prevail once again. 
Lord let sanity prevail once again 
In our land 
Let sanity prevail in this land, Lord 
Show Your mighty hand 
(verse 3) 
Let the Name of God 
Rise in our schools 
Let the Law of God 
In our courthouses rule 
Come YHVH show the world once again 
That You mean what You say 
For this is the promised land 
That you have offered by Your hand 
(bridge) 
"Bring me your dying! 
Bring me your crying!" 
(sax solo) 
For this nation belongs to Jehovah God 
And the Name of Yeshua shall rise again 
The Law and His Torah 
The commandments of the LORD 
Will be heard and will arise upon this land once again 
(bridge 2) 
No more lying 
No more killing 
No more adultery 
No more anxiety 
No more coming against what should be the Lord's 
'cause this land is God's 
From shore to shore 
Let me be American 
Holding the values of my God 
All of His Word 
Let me be patriotic for Thee 
'cause America, my Lord, belongs to You 
(bridge) 
No more killing 
No more stealing 
No more false witnesses, lying 
We'll hold Your Name 
In honor as we should, my Lord 
No more idols made of iron or wood 
(verse 3) 
And on the sabbath day 
We'll remember to say 
That YHVH is the reason for it all. 
This promised land 
Given by God's own hand 
America belongs to YHVH 
(strings interlude) 
Touch America by Your Spirit Lord 
Heal America once more 
Red, white, black and yellow 
It doesn't matter, we're all fellows 
And this is the nation of our God 
(Guitar solo) 
(Chorus) 
Have Your way 
In the USA 
Have Your way Yeshua, Ruach HaKodesh, YHVH 
Have Your way in all that I do and all that I say 
This is my prayer for the citizens of USA 
That we would with one voice proudly say 
"The nation under God—the USA." 
The nation under God. 
(This video contains the professional audio, which is available on my website and iTunes. Everything you hear is performed live, there are no overdubs. The vocal harmonies are produced by the Tyros 5 as I sing, based upon the chords I play each moment. 
Thank you for purchasing legally which helps support our ministry. You can also donate at www.stevekuban.com/donation, which enables us continue to create new music for America and for the nations.