Hi! Today I am sharing the important connection between worship and God's commandments. I encourage you, please read this entire email. It will really bless you. I know that you are busy, and it's tempting to just rush through this so you can read the next ones in your inbox. But I ask you, please take a big breath, and set aside a few quality minutes to hear my heart (and God's heart) in this email. I'm doing this for you — because I long for you to get closer to the Lord, and become a better worshiper of our God. Thanks. 
First, I always like to give a free song to bless you, and as a way of saying thanks for subscribing to SteveKuban.com. So here's today's song: a beautiful worship chorus from Psalm 84:1-2, from one of my first worship albums in 1993. 
To Know Your Presence. (Click the purple title to be taken to the song, and then you can download the entire song into your phone or PC, if you wish, by using the link at the very bottom of this email and entering the download code.) 
To Know Your Presence (Psalm 84:1) 
Title: For the Chief Musician. 
On an instrument of Gath. 
A Psalm by the sons of Korah. 
1 How lovely is Your dwelling place 
O Lord Almighty 
2 My soul longs, it faints for Your courts 
My heart and flesh cry out 
To know Your presence Lord 
Is a fortune to unfold 
To sense Your touch again 
Is more precious than gold 
This was written by Darryl Sam, a friend of mine and fellow music student at Northwest Bible College in 1985. It's such a beautiful song, that God has used to touch many lives. The Word of God says "despise not the small beginnings." Here's a little background: 
I first recorded this song in 1993 as part of an Easter musical I wrote and produced at Crossroads Cathedral in Toronto depicting worship in David's Tabernacle, which culminated in a glorious finale around the Throne of God. The purpose of this musical was to present a theology of worship through the ages, and visual representation of Worship As It Is In Heaven. I produced an accompanying worship album that went along with the musical, entitled Holy Place, which included To Know Your Presence (How Lovely is Your Dwelling Place). 
Seven years later I made a compilation album called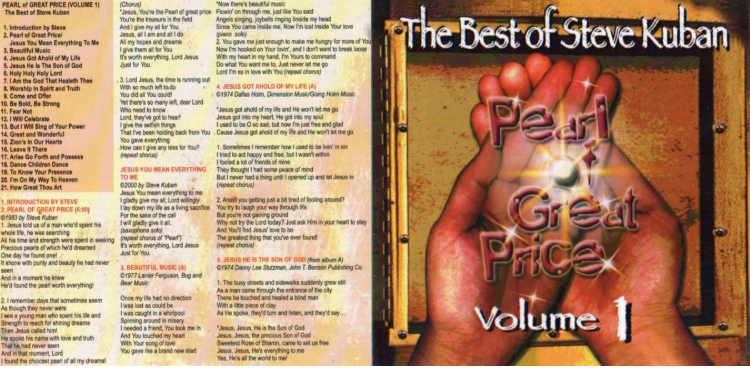 The Best of Steve Kuban Volume 1 which included 21 best songs from my first five worship albums. I selected To Know Your Presence because it was a beautiful song that just ushers you right into the presence of God! 
(If you'd like to full download or order the CD of Steve Kuban Vol 1 album please click here:  https://stevekuban.com/album/458543/best-of-steve-kuban-vol-1 
God tells us that if we are faithful in the small things, He will give us bigger things. Here's a powerful testimony of this involving worship: 
During this musical presentation, our congregation of about 600 people experienced worship on an entirely deeper level than ever before. It was a foundation and a catalyst that propelled us even higher toward the Throne of God in worship, This musical 'set the stage' for us to become a highly prophetic worship team and worshiping church that God ultimately used to touch millions of lives! 
After we experienced that Easter musical in 1993, our church worship services were touched with a greater maturity and depth in worship, because the people had learned what true worship is supposed to be — a divine encounter with the Living God! And God really began to move, especially in our worship team. 
Shortly after the Holy Place musical, God sovereignly began opening major doors of opportunity, and our worship team began ministering regularly on nationwide live television to hundreds of thousands of viewers through the 100 Huntley Street television show in Canada. Then we began to record live worship albums that ultimately touched millions of people worldwide, including "The Lord is My Tower" and "Come Holy Spirit." (By the way, Come Holy Spirit will receive it's 3.5 millionth view on YouTube in the next few days, and continues to bless tens of thousands more worshipers each and every day. Check it out on Youtube here: 
Come Holy Spirit song on YouTube: https://youtu.be/iHuTFknAFTM 
There is a divine connection between obeying God's commandments, and true worship. Billy Graham once said, "The highest form of worship is obedience." Romans 12:1 says we are to present our bodies as living sacrifices unto God, which is our "reasonable worship." So worship is a lot more than just singing songs. It's giving ourselves unto our Master! 
Yeshua said, "Why do you call me 'Lord, Lord', yet you do not do what I say?" (Luke 7:46) Here's the bottom line: 
True worship can only be TRUE worship if we obey God's commandments! May I speak to worship team members for a moment: As worship leaders and worship team members we can only bring our congregations into higher levels of worship IF we ourselves live there! If we are not living according to God's commandments, we will NOT be able to bring people into the higher levels of worship, for we can only bring people where we ourselves already are! That's why we need to KNOW His Presence, and understand His courts, and how to get from the outer courts into the inner court, and then how to get into the Holy of Holies and stay there until God does His surgery in our lives. This applies to every one of us: worship team members, Sunday school teachers, pastors, church bus drivers, church attenders, you name it. 
When we are true worshipers, we experience God personally, and we become more holy (set apart) unto Him. We shun the things of the world and it's fleshly desires, because "we are changed in the presence of a Holy God!" (Here's a powerful song called "In The Presence (of a Holy God)" that speaks of this:) 
https://stevekuban.com/track/1153120/in-the-presence 
Now let's delve deeper into God's Word! 
Today is Shevat 17 on the Jewish calendar (January 23rd on the Gregorian calendar):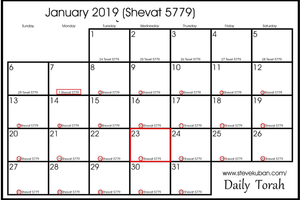 and our suggested Bible readings include: 
Luke 17 
Acts 17 
Revelation 17 
Proverbs 17; and 
Psalms 81-85 (since we read five Psalms a day, 17 x 5 = 85, so we read Psalms 81-85) 
Today's Bible Reading portion is  #17, using the precise pattern of Bible reading Jews have been following every Sabbath day for the past 2,500 years called the Parashah (portion). 
Parashah #17 is all about the commandments of God. We really need the 10 commandments in our lives! 

See in today's Torah portion how God desired Israel to become a kingdom of priests, His holy people! We see Him give His commandments to Israel, that reveal His holiness (his set-apart ness), and how He asks Israel to follow His commandments so that they will be like Him. 
Then we see how Isaiah saw the LORD high and lifted up, and His train filling the temple (Is. 6). We hear the seraphim (angels) crying out, "Holy, Holy, Holy is the Lord of Hosts!" for eternity! There is so much to glean from these Torah and Haftarah portions of scripture! 
And there is more! The New Testament is filled with admonishments to follow the Torah, God's commandments. Let's look at some of them. 
Messianic Jews over the years have selected certain New Testament passages to be added to each Parashah, that correspond to the Old Testament scripture Parashah. Here they are for #17: 


These are wonderful verses, well worth reading in their entirety! And they are all about the commandments of YHVH! 
You might ask, "Dr. Steve, did you really read ALL these scriptures today?" The answer is, Yes. 
I take very seriously the mandate to read God's Word. The Word of God is my daily bread and food. Yeshua (Jesus) is the Torah made flesh. He literally lives inside us through His Ruach HaKodesh (Holy Spirit). As I read and obey the Word of God He writes His Torah (Law) upon my heart, which causes my selfish and rebellious heart to soften so that I willingly and joyfully follow and obey His commandments. It's not a burden, rather it's a joy to hear and obey His Torah! 
In our first New Testament reading today, Matthew 5:8-20 Yeshua declares from verse 18-20: 
17 "Don't think that I have come to abolish the Torah or the Prophets. I have come not to abolish but to fulfill (complete) [the Torah]. 
18 Yes indeed! I tell you, until heaven and earth pass away, not even one of the smallest letters — not so much as a yud or a stroke (literally, iota or one tiny pen stroke or serif) shall in any way pass away from the Torah — not until everything that must happen has happened. 
19 So whoever disobeys one of these least commandments (mitzvot) and teaches others to do so will be called the least in the Kingdom of Heaven. But whoever obeys them and so teaches them will be called great in the Kingdom of Heaven. 
20 For I tell you that unless your righteousness is far greater than that of the Torah-teachers (scribes) and Pharisees (P'rushim), there is no way you will enter into the Kingdom of Heaven! 
So Yeshua is saying that when we believe in Him, we don't forsake the Law (Torah) and commandments of our Heavenly Father; rather, we obey them more! So it's vital that we LEARN the TORAH (Law) of YHVH! 
These verses in Matthew 5 are just part of today's New Testament readings from "Parashah #16". There are yet sixteen MORE passages to be read today on "Portion #16." Shall we read them? By all means let's read them, and learn, and as a result we will be super-blessed! 
Do you love His Torah? I do! I don't want to disobey even the least of Abba's (Father's)  commandments. But I make mistakes. I do not always follow Him 100% of the time, sad to admit, because my flesh still exerts it's desires and ways, which if I listen to them or follow them or give in to temptation, I miss the mark of God's perfection. But my heart is soft and I'm always desiring more to obey His Word and please my Heavenly Father and Lord Yeshua, so I repent, ask His forgiveness, and then press on! I keep reading and applying His Torah to my heart! David said in Psalm 119: "Thy Word have I hid in my heart, that I might not sin against Thee." (Psalm 119:11) So when we read His Torah and put it into our heart, we receive divine strength to resist sin against our Elohim (our God)! 
Singing helps us put God's Word and Torah into our hearts. It's one of my jobs YHVH has given me, to put His Torah and Bible into song, so people can sing and thus memorize and internalize His Word. He has given me many songs about the commandments of God, many that speak of how important it is that we obey YHVH's commandments at all times, with a true heart of love for the Lord. I will share more of these songs in future days, for as we read certain Bible passages in coming days and weeks these songs will relate well to the passages we read during each Bible Reading portion. 
For now, though, I truly encourage you to read the Word of God, and to make every effort to memorize His 10 commandments. It's awesome to realize that Yeshua came to show us the Father, and He came to fulfill the Torah (Law) of God. For "In the beginning was the Word, and the Word was with God, and the Word WAS God!" He IS the Word, and HE IS GOD (John 1:1) 
Thanks for taking time to listen. May Yeshua the Living Torah bless you abundantly! 
Dr. Steve Kuban 
============================== 
Here are the Bible portions and passages that we will be reading tomorrow, Shevat 18, Jan 24th, We're going to be reading a lot of God's "laws" so start early and set time aside for this. 
Luke 18, Acts 18, Rev. 18, Prov. 18, Psalms 86-90. 
Plus these passages from Portion (Parasha) #18: 


Shalom my friends. Enjoy His Word, enjoy His commandments, and enjoy His Living presence. 
"To Know Your Presence, O Lord is a fortune to unfold!" 
============================ 
If you would like to help Dr. Steve and Cassandra Kuban to continue writing and recording music and sharing God's word in teachings, please support their ministry financially by donating a regular amount each month, or one-time, at SteveKuban.com/donate. Thank you very much!