Hi! Here for you free, is a very victorious rock song, "Who is Like Thee?" from Exodus 15. 
Today in our Daily Devotional for Shevat 16 (Jan 22) we read the following Bible portions: 
Number  Name  Meaning   Torah        Haftarah   Brit Chadasha (New Covenant) 



It's awesome how YHVH delivered the children of Israel out from bondage in Egypt, and how He parted the Red Sea and brought His children safely through. And also awesome to see how He drowned the entire army of Pharaoh! As the bodies washed up on the shore, here is the victory song of Moses and Miraim from Exodus 15: 
Who is like Thee 
O Lord among the Gods? 
Who is like Thee 
Majestic in holiness 
Awesome in praises 
Doing wonders 
Who is like Thee, O Lord? 
Thy right hand is majestic in power 
Thy right hand shatters the enemy 
God is a warrior 
YHVH is His name 
And I will worship Him forever 
This passage of scripture is read  by Jews each year as Parasha 16, and also on the 7th day of Passover each year. Here is a video of when I sang it on Facebook Live on the 7th day of Passover: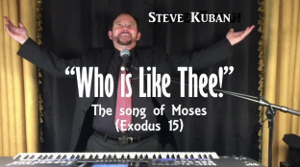 <--- Who is Like Thee (Pro Audio YouTube video) 
Who is Like Thee (Pro Audio mp3 download) --->
(If you'd like to watch the original facebook live video, click here. Note that the live audio is not professional quality though on facebook.) 
Exodus 15 says: 
1 Then sang Moses and the children of Israel this song unto the Lord, and spake, saying, I will sing unto the Lord, for he hath triumphed gloriously: the horse and his rider hath he thrown into the sea. 
2 The Lord is my strength and song, and he is become my salvation: he is my God, and I will prepare him an habitation; my father's God, and I will exalt him. 
There is a Christian chorus called "The Horse and Rider Song" which I heard shortly after becoming a Christian. Perhaps you've heard it? I'll share a link at the very bottom with me playing it. 
Here are the words: 
The Horse and Rider Song 
I will sing unto the Lord 
For He has triumphed gloriously 
The horse and rider thrown into the sea 
(repeat) 
The Lord, my God, my strength, my song 
Has now become my victory 
(repeat) 
The Lord is God and (clap!) I will praise Him! 
My father's God and I will exalt Him! 
(repeat) 
I was quite surprised when I first heard this song in church, because I knew it as a popular European polka being, not as a church song. For I had been playing that same melody since I was very young, which I learned as a song called Tzena at age 5 while listening to my dad play it for the neighbors in our household sing-alongs. Later we'd play it together (me on piano, and dad on accordion), and it was always so much fun watching everyone dance polkas in the living room. We played this song together regularly, probably hundreds of times, from the time I was 5, until he died suddenly when I was 17. 
Would you like to hear me and my Dad play Tzena, when I was about 12? Okay, here it is! 
Me playing Tzena with my Dad, at age 12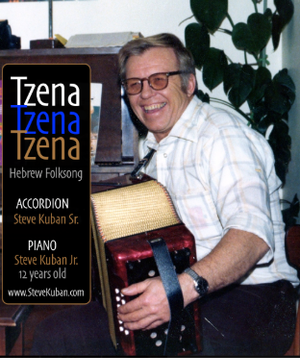 Imagine my surprise some 40 years later when I discovered that my last name Kuban is a Jewish name (coming from "Jacob" or Yakob in Hebrew). Then I discovered that the song "Tzena" was written originally by a Jewish man named Issachar Miron, while serving in the Jewish Brigade of the British forces in 1941. It was originally a Jewish folk song! I was flabbergasted. 
Would you like to hear how Tzena, Tzena, Tzena sounded in its native Hebrew style in 1940-50's? Here's one of the best renditions of it, played and sung by a Jewish group known as "The Weavers."  You'll be blessed listening to this! 
Tzena Tzena Tzena performed by the Weavers, written in 1941 by Issachar Miron 
(Here is the Wikipedia article in case you're interested to know more about the original song: https://en.wikipedia.org/wiki/Tzena,_Tzena,_Tzena) 
Then in the final passage of Portion (Parashah) 16 in the New Covenant (New Testament), Rev. 15:3-4, we see another song of Moses being sung in heaven!: 
Rev. 15:3 And they sing the song of Moses the servant of God, and the song of the Lamb, saying, 
Great and wonderful 
Are Thy wondrous deeds 
O Lord God, the Almighty 
Just and true are all Thy ways O Lord 
King of the Ages art Thou 
Who shall not fear and glorify 
Thy Name O Lord? 
For Thou alone art holy 
Thou alone! 
All the nations shall come and worship Thee 
For Thy glory shall be revealed 
Hallelu-Yah 
Hallelu-Yah 
HalleluYah, Amein! 
Lai lai lai lai lai.... 
Messianic Jewish musician Stuart Dauerman rendered these two verses into a lovely Jewish-styled chorus called Great and Wonderful, which I recorded on one of my earliest Christian albums (Worship in Spirit and Truth): 
https://stevekuban.com/track/1156834/great-and-wonderful 
I received some interesting emails from folk who'd like to get this entire album, so for those of you who would like to get this piece of "Steve Kuban" memorabilia, here is the CD insert and tray card, together with all the song lyrics: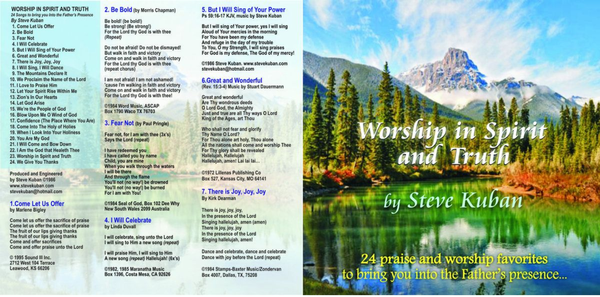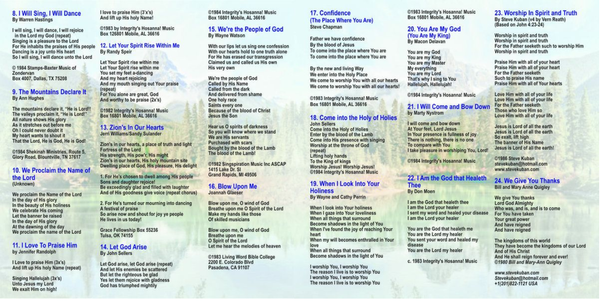 If you'd like to get this original album,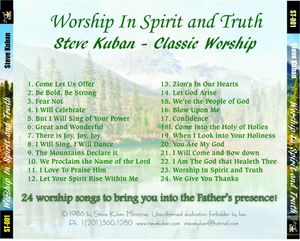 it's available as a download or a CD (or even cassettes in limited quantities, which are true vintage treasures!). Just click here for "Worship in Spirit and Truth" 
I pray these scriptures, and these songs, will be a blessing to you! Thanks for taking time to read my emails. 
Please remember that if you'd like to support the work that Cassandra and I do, bringing worship music to the nations, you can donate to help us carry on this work, at www.stevekuban.com/donate. Your investment into our ministry will result in many changed lives and blessings worldwide. Thank you. 
Shalom in Messiah Yeshua! 
Dr. Steve and Cassandra Kuban 
========================== 
Here are the scriptures we read on Wednesday, January 23rd, Shevat 17: 
Bible Portion #17: 
# Name Meaning Torah Haftarah  Brit Chadashah (New Covenant) 

Plus these 17th chapters: 
Luke 17 
Acts 17 
Revelation 17 
Proverbs 17 
Psalms 81-85 
Here is list showing what passages of Torah we read each day: https://www.stevekuban.com/Bible-and-Torah-portions 
Please consider reading along with us. God's Word is our daily food! Each day I share a song or songs from the selected passages, together with free downloads to everyone on our email list. Please share with your friends, and encourage them to sign up on our home page to receive these emails and other offers and specials, www.stevekuban.com 
Shalom! 
================================= 
Here is a Jewish calendar showing the days of the Jewish month Shevat: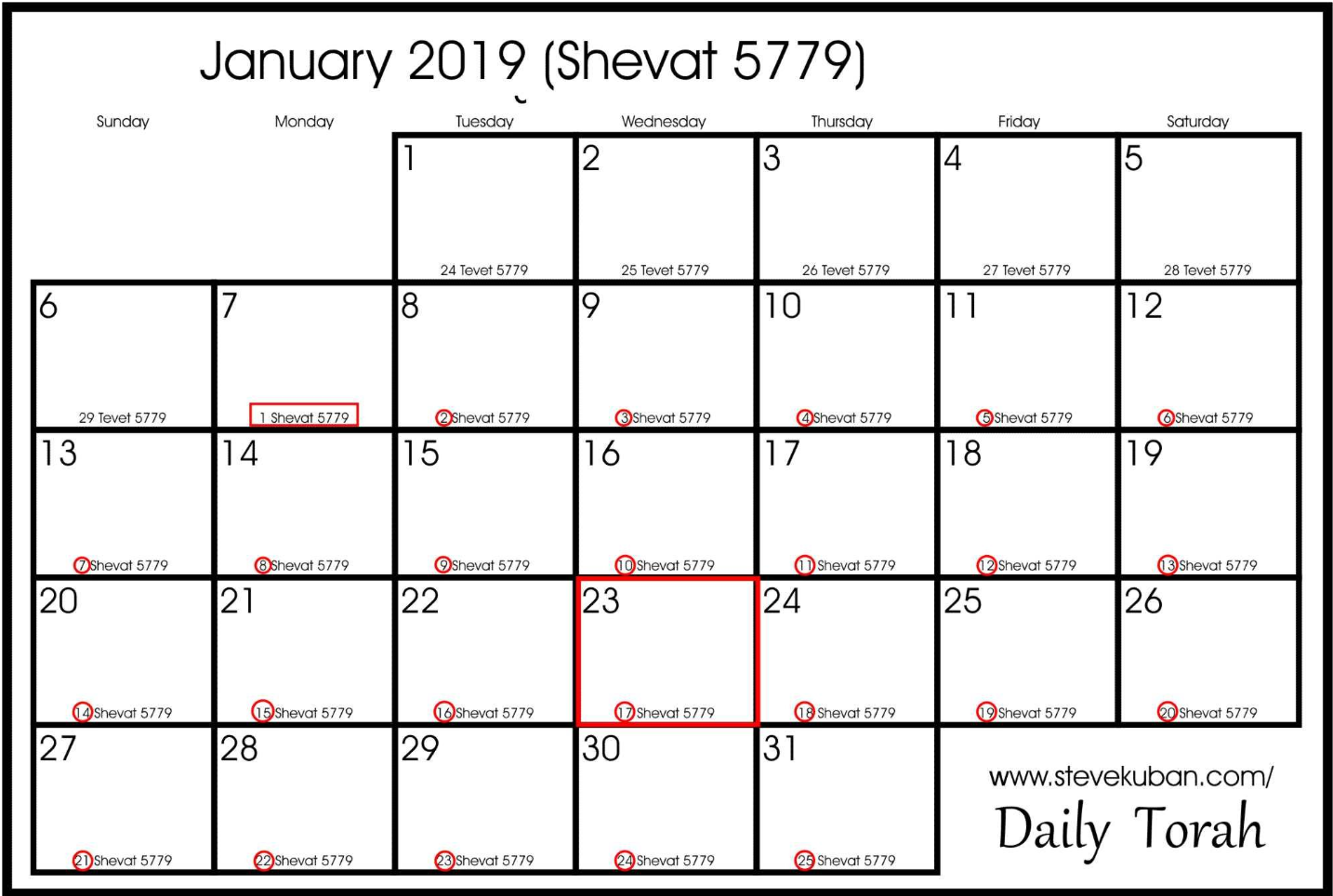 Finally, as promised, here is me playing "Horse and Rider" at 3 min 40 seconds. Enjoy!  https://www.facebook.com/SteveKubanMusic/videos/2122585631132544