A message given to Steve Kuban by the Holy Spirit on February 13, 2019 
My daughter, you prayed you fasted. You sought me with all your heart, diligently. "Lord, what is with this guy Steve?" And my daughter, you fought the enemy. He didn't know how mightily I would use you, but he had a premonition that this girl is going to be a danger to my purposes. He fought you. He laughed at you. But you clung to the cross, and you fought, because you knew, "Greater is the Lord your God who is in you," than he that appears to put fear in you. 
My daughter, you were not disobedient to the heavenly revelation and vision. But you said, "Yes my Lord, here am I, Your handmaiden." Miriam said "Yes." In her day, in her culture, it was almost like a death sentence to be pregnant with child. But she knew her integrity: she had known no man. But she said, "Father... Angel... God, here am I, Your handmaiden." And because she was not disobedient to the heavenly vision, she became the mother of the Messiah, "Salvation of YHVH." And great, great, great has been her witness.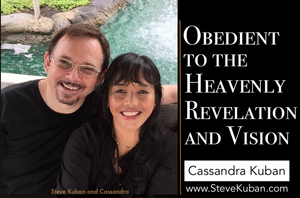 There are other women in Scripture that were not disobedient to the heavenly vision, you read of them today. My daughter, so it will be with you. You said "Yes!" to the heavenly vision. So it will be with you. It's going to be spoken of well concerning you: that you stayed the course, that you believed what you had heard, even though you had not received the promise. Avraham didn't receive the promised land that I promised him — and yet he received the city in his spirit, and so did his children, that ultimately the day came when Moses My servant said, "You stiffnecked Israelites, He's not giving you the promised land because of all the good things you've done. No! He would've smitten you all, had I not fallen on my face and begged him not to. You're a stiffnecked people! No. But God is faithful to His Word. And he will bring the children of Avraham into the promised land, and the children of Y'itzak into the promised land, and the children of Y'akov into the promised land, because He's faithful to His Word. 
So my daughter, you — you have been faithful to this word that We spoke to you on that day in Household of Faith, My daughter, that, "This is the man that I have prepared for you." Now it's easier to understand how important you were to YHVH's plan, and how I needed you to be an instrument that I could deliver this man through. You understand now, more than you ever did before. But then you didn't know. You didn't have a clue. You even said, "What's wrong with him?" And then I showed you, "There's a lot more wrong to him than just unmet needs. There's a devil that's gotten into his thinking, and he needs to be delivered from this life, because I've got so much invested in this man." And so, because you said "Yes" my daughter, I began to turn the ship. It was a very big mess. And his mind was so filled with thinking that "he knows best." There's the biggest problem. It's hard to get through to someone who thinks there's nothing wrong with him. It's hard to change the course when the captain of the ship is absolutely convinced that he's on the right course. And this one was, because of the various things that were going on in his life. 
I appreciate your steadfastness. I appreciate your obedience. I appreciate that you stood before your peers, who were filled with accusation against you (like Paul), but not knowing the mind of God. And like Paul, you said, "I will fight for what's right, and do what is right, because I've heard the divine announcement." 
My daughter. I appreciate that you stood before your mentor and said, "You're the snake." I appreciate that you stood before accusation and you kept quiet, because it was not yet the time. Yeshua warned the demoniac who was delivered, he warned others that were healed, when they said, "You are the Messiah," He said, "My time is not come yet." 
My daughter it's exciting, because you've been faithful. And to this day you are continuing to be faithful. And you are putting your hand to the plow, and you are putting your hand to the keyboard — your keyboard, not his — and You are being My publisher (not him), My Baruch, faithful amanuensis. "How lovely on the mountains are the feet of them who bring good news, who publish good news," My daughter. I give you the good news, and the means to publish it throughout the world. How exciting is that? 
It's a time for both of you, my children, to get excited once again at the prospects. Do you see what I have done for you? I have met your needs. And you've not been out traveling, you've not been out ministering. 
When you have focused on doing what you need to, because of the call of YHVH in this day of the digital technology, to take worship to the nations, electronically, I've provided for you. Your rent is paid. My daughter the money comes for food so that I can meet your daily needs. And I give you dates and times just to be free of mind and not worry. Just like I did in the "Lands of the Sands, " I gave back a passport to my son. I provided $12,000 in just a very short time. I gave you the means whereby you could fulfill the prophecy to, "Go take worship to the Lands of the Sands," because they're dear to me. I used you as a knife blade, a scalpel in the Lands of the Sands, to break it open for future ministries to come, and to teach them and ground them in what is true worship, and what is praise and worship to YHVH. 
My children, there's a lot of work left for you to do. But I want there to be many who will support you in days to come. People that will have believed in you. And you've given them the means and the mechanisms and the platform by which they can support you. My daughter one little group that you went to in Connecticut supported you. They gave you $20 a month to help you, just one little Bible study. And that kept going for a long period. How much more could be done if you could do the same in all the places where you have already run? They have not forgotten you, because you were an instrument that birthed them and gave revelation concerning worship in your visitations. 
Don't be hesitating. Don't think you can't do it. I will cause many to come around you, my children, and undergird you with their donations and their support, so that you can focus and do what you're called to do — not what others expect you to do, or tell you to do, or invite you to do — but rather that you do what I have called you to do. This will be freedom. This will be fulfillment. This will be joy unspeakable, when you can know, both of you, that, "We're right in the center of God's will. We're doing what He's called us to do." 
And my daughter, you'll then say, "I see the city, but I also receive the provision right now that YHVH has promised me." And this will bring you great jubilation. You'll be able to stand up and say, "Yes, my God, You are faithful!" 
You read today Psalm 126: "He who goes forth weeping..." My son and my daughter, you've gone forth weeping. My daughter, your tears, if We bottle them up, you've got a lot of tears in the bottle: tears of anguish, tears of disappointment, tears of, "When Lord? Why, Lord?" But I say to you My daughter, every one of those tears are clear to me. And I'm going to bring forth — because you've gone forth with tears — "He who goes forth with tears, sowing the seed faithfully—" Both of you have done that. My daughter, you've done that, and you're continuing to do it. Even amidst the tears at times, and the fears at times, and the worries, the bills at times... But hear you the word of YHVH: "Shall doubtless come again" — shall return from the harvest — "Carrying her sheaves, her harvest, with her." This is my promise to you, my daughter. Write it down in whichever translation means the most to you, and place it before you. And in your times of tears, and in the times of sowing, in the times of typing, in the times of publishing...know that there is coming for certain harvest and reaping. 
The enemy wants to divide you guys. But if you hide yourself in my Word, and if you hide yourself in my Torah, and if you'll be in agreement concerning these which I have revealed.... And if you will be faithful to both do diligently what I've called each of you to do...the enemy has no part in you, and he will not be able to cause division. He will not be able to discourage you. He will not be able to cause doubt and sow seeds of dissension within and among you. But rather you will be fighting the good fight. You'll be like Joshua bringing the people into the land of promise. "The captain of the host is Yeshua." And as you keep following in His footsteps, you will go forth and take your promised land. "You are marching in Messiah's band. The keys of victory in His mighty hand." 
Inspire my children through your postings, through your blog, through your photos and your videos. Inspire my people: "Let us march on to take our promised land! No foe can stand against us in the fray!" Because the battle belongs to YHVH! 
Fear not, my children. Fear not, Cassandra and Stephen. For I am with you. I will tell you what to do. I will lead you, I stand beside you, so that you will know, as did Paul, not only will you be a witness for me in Yerushalayim, but off to Rome you must go! That this gospel might be carried to the whole world! 
Be strong and courageous my daughter. For the Lord thy God is with you!