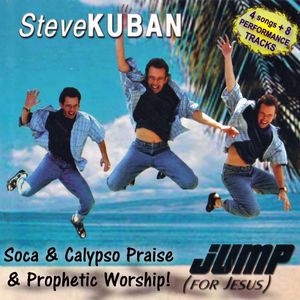 This catchy soca song, "Jump For Jesus" was originally inspired spontaneously after I experienced the enthusiasm and excitement of true Trinidadian soca music during the Caribana Caribbean street music festival in Toronto on August 6, 1994. Here's how it happened:
In 1994 I attended an annual Caribbean Festival called "Caribana" held in Toronto each August, at the invitation of some folk in my church who were from the Caribbean. I went, and was amazed at the enthusiasm of the almost 500,000 participants on the street who would "Jump and wave" to the contagious (and extremely LOUD) soca and calypso music which blasted through the 50,000-watt sound systems from the back of the big flat-bed trucks in the massive parade. I actually got a little jealous, because the people seemed to be having more fun jumping for flesh, alcohol, sensualityand having a good time, than we do in church who know Jesus. But I knew for a fact that Christians who know the Lord personally have a far GREATER reason to celebrate than anyone in the world does, because we know the Lord Jesus personally, He's in our hearts and is always so close to us every moment of the day, and our names are written down in the Lamb's book of eternal life!
Later that afternoon I left the street festival, and with the soca music still pounding in my brain, I went to a home gathering held by some church members, mainly folk from the Caribbean. I had my brand new Roland E-86 arranger keyboard set up, and as we were singing praise to the Lord, I could still feel the joyful beat and sound from the songs I'd heard earlier in the day. I picked a nice beat on the Roland keyboard, and in only a moment of time this song, "Jump for JESUS" burst forth. I vividly remember my dear friend, Trevor Seaton (a Jamaican brother) being in the room as I began to sing it, and he got all excited and started dancing around the room and singing it. The song became an instant hit in my church, when I shared it with the congregation the following day, and the rest is history.
Then in 1998 I recorded an EP album with four songs specifically for the nation of Trinidad and Tobago, using "Jump For Jesus" as the title track. My very talented friend and church member Roy Oommen arranged the song, recording the tracks in an authentic Trinidadian Soca beat. In the studio I began to overdub my voice, and as the energy gripped my heart, I sang the entire track in one take, from beginning to end. You can hear how much fun I'm having when you listen to the song. Then Ken Vandevrie and his wife Amy sculpted and arranged the terrific background vocals, and then we added the studio staff who came in and shouted and clapped to complete the song.
When I introduced "Jump For Jesus" to the nation of Trinidad and Tobago, it became an instant hit! One that became very popular not only on the Christian radio stations in the nation, but also even on secular radio stations. Those Trini's know how to party for Jesus!
Then when I went to the Philippines several months later and did a "Jump For Jesus" concert tour to introduce the album, Filipino's everywhere loved it and took great joy doing the "Jump Jump Jump Jump" actions,using the same "soca" style of music.
"Jump for Jesus" is a  heartfelt and enthusiastic declaration to the Church and Christians everywhere that we should GET EXCITED about the Lord, and like King David, jump and dance and wave for HIM! 
(PS: I love Trinidad and Tobago, having visited there more than 40 times! Their soca music style, through this song, has become a contagious joyful song sung in congregations all over the world. Thank you Trinidad! God is truly using you. I can't wait to go back again and be with you all!)


JUMP FOR JESUS
©by Steve Kuban 
CCLI # 2761806 
Jesus, You are my sole desire 
You light my soul on fire 
You lift my spirit higher 
Jump, Jump, Jump, Jump, for 
(repeat) 
Jesus, You are my friend and my brother 
Above You there is no other 
You give us love for each other 
Jump, Jump, Jump, Jump, for...
 
TO GET THE FULL ALBUM
Steve's Official Store: Download here ♫ 
iTunes: Visit here ♫ 
Amazon: Visit here ♫
Spotify: Visit here ♫